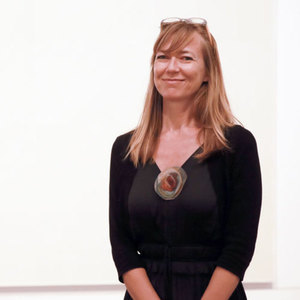 Siobhán McCusker
Special guest
Siobhán McCusker joined the Blanton Museum of Art in early 2015 as the museum educator for the university audience. She works with faculty, staff, and students — from all departments, colleges, and schools — to custom-design gallery experiences that use artworks to activate curricular-connections as well as skills development. She is an artist and educator from South Africa with a diverse arts background which informs her gallery teaching. Prior to living in Austin, she was as an adjunct lecturer in both the Fine Art and History of Art Departments at the Wits School of Art, University of the Witwatersrand, in Johannesburg. Previously, she held curatorial/artist collaborator positions at the Goodman Gallery and David Krut Projects — both at their Johannesburg locations. She has an MA(FA) from the Wits School of Art, South Africa.
Siobhán McCusker has been a guest on 1 episode.
April 9th, 2021 | Season 1 | 40 mins 8 secs

From the Blanton Museum of Art, Siobhán McCusker, an artist and innovative educator, joins Jen, Stephanie, and Dixie to talk about the creative ways in which she uses the art gallery experience as a microcosm for teaching growth mindset to classrooms (and faculty) of all disciplines. We really enjoyed this wonderful and uplifting conversation and we hope you do as well. Thank you!